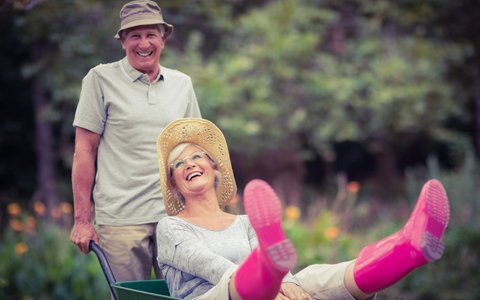 If you are missing teeth, we want to help! Dr. Lindsay and our team are happy to provide you with options when it comes to restoring your smile. These denture options can restore both function and aesthetics. They are also comfortable and convenient.
Traditional Dentures
If you've lost a full arch of teeth, either upper or lower, traditional dentures can be a great option for you. Traditional dentures are created using materials like porcelain and acrylic. These materials are both durable and aesthetically pleasing. Your denture should look and feel like your natural teeth.
These dentures are also removable, which some patients prefer for the convenience they provide.
Full Dentures
Full dentures are used if you are missing all of your teeth in the upper or lower arch or both.
In the upper jaw, the base of the denture will cover the roof of your mouth and your gums as well. The full denture used in the lower jaw is horseshoe shaped, so there is room for your tongue.
Partial Dentures
If you are missing several but not all of your teeth, we can create a partial denture for you. Many patients prefer partial dentures over a permanent bridge. Partial dentures can be easily removed, while a bridge cannot.
Implant-Supported Dentures
If you have sufficient bone density and gum health, you may qualify for dental implants. Dental implant-supported dentures are dentures that are attached to posts placed in your jaw. Because they are attached to implants, these dentures offer more stability, and the implants stimulate your jaw for increased bone health.
There are many benefits to receiving implant-supported dentures, which can include the following:
Improved ability to speak.
Decreased risk of irritation to gum tissue.
Elimination of the need for adhesives.
Increased bite strength.
Restored ability to chew, which can lead to improved digestion and better nutrition.
Not everyone can support dental implants, so we will want to have a consultation with you to determine whether you are a good candidate for this procedure.
If you are missing many or all of your teeth, dentures could be the solution that restores your quality of life. Please call today to discuss your options or to make an appointment.