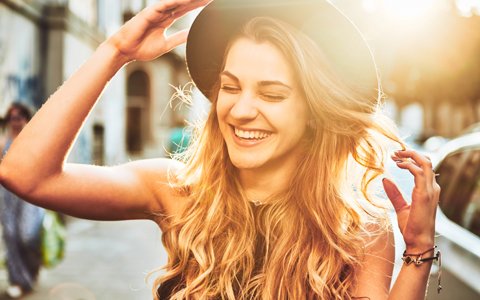 Do you envy the confident smiles of your friends or coworkers? Why not give yourself the gift of renewed self esteem through a smile makeover? Dr. Lindsay offers many cosmetic dentistry procedures and will help you determine which one will give you the smile you've always wanted.
Perfect Your Smile!
Perhaps your oral health is in great shape, but you feel that your teeth are a little lackluster in their appearance. Stains and discoloration may have dulled your smile. Similarly, large gaps between your teeth or chipped or cracked teeth can impact your smile.
We're proud to offer cosmetic procedures that use modern technology and high-quality materials to help create a new, beautiful smile for you. We see each patient as an individual, and we're excited to help you design the smile of your dreams!
We customize our options to fit you and your needs. We'll also help you determine which procedure will give you the biggest bang for your buck.
Teeth Whitening
One of the best ways to improve your smile is to opt for a teeth whitening treatment. While over-the-counter solutions are often underwhelming, getting your teeth professionally whitened can provide dramatic results. Dr. Lindsay offers two teeth whitening solutions, allowing you to choose what is most convenient for you.
Our in-office whitening treatment will allow you to whiten your teeth in just one visit. The results are noticeable, and you'll walk away with a gleaming new smile.
Take home trays take a little longer, though the results are equally stunning. If you'd like a more gradual method that you can complete in your own home, you'll want to choose this treatment type.
We would love to brighten your smile!
Veneers
If you have one or two 'problem' teeth, you may not want a dramatic change to your smile. Veneers are the perfect option for those who want to make minor changes to the aesthetics of their smiles.
These extremely durable shells adhere to the fronts of your teeth, covering small flaws like discoloration, chips, cracks or oddly-shaped teeth. Your tooth will be prepared to receive the veneer. Once it is placed, it will resemble the rest of your teeth. Most people won't even notice you've received work.
Dental Crowns
Dental crowns cover and protect your compromised tooth, providing both a restorative and a cosmetic value. Dr. Lindsay offers porcelain crowns, which blend in beautifully with the rest of your teeth. If you would prefer, we also offer Zirconia crowns. These crowns are translucent, strong, and durable. They are also biocompatible, so your body won't reject them.
Choosing to receive a porcelain or a zirconia crown can help you to improve both the function and the aesthetics of your smile. Both options offer you a metal-free way to preserve the overall health of your mouth.
Make a Smile Brightening Appointment Today!
To learn more about our cosmetic dentistry services, please call today. We are happy to answer your questions or make an appointment.