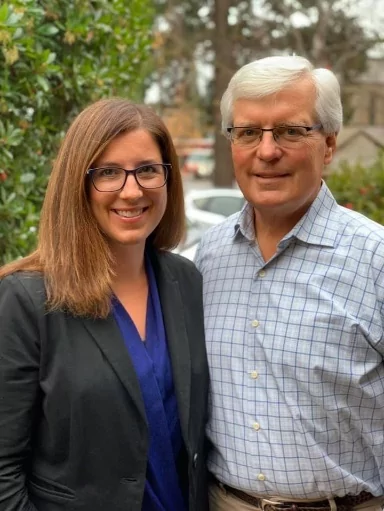 Dr. Lindsay Freed has dentistry in her blood! She is thrilled to own and operate an independent dental practice in the Cedar Mill neighborhood which she grew up in, attending school at Oak Hills Grade School, Meadow Park Intermediate, and Jesuit High, and where she continues to reside with her family.
After graduating from the College of the Holy Cross in Massachusetts, Dr. Lindsay spent a year volunteering as an AmeriCorps VISTA. Following her year of service and before attending dental school, Dr. Lindsay worked in the high tech industry, the dental field and lived overseas in Alexandria, Egypt.
Dr. Lindsay attended the Oregon Health and Sciences University School of Dentistry, and earned the Student Leadership Award in her graduating class. Dr. Lindsay is a member of the Oregon Dental Association, Washington County Dental Society, the American Dental Association and the Oregon Academy of General Dentistry. She greatly values continuing education and is also a member of the Sunset Study Club. Dr. Lindsay has volunteered with the Oregon Dental Foundation's Tooth Taxi, Give Kids a Smile Day, and the Mission of Mercy, among others.
Dr. Lindsay focuses on dental health for the whole family. She especially enjoys treating children. As a doctor and a mother of two, she is an impassioned advocate of early prevention.
In her limited free time, Dr. Lindsay is an avid reader and has been a member of the same book club for over 10 years. She also enjoys exercising, exploring the Portland outdoors with her family and visiting the Oregon Coast.
---
About Dr. Randall N. Freed, DMD, FAGD
Over 40 years ago, Dr. Randall Freed established Cornell Family Dental in Cedar Mill where he also resides. He chose private practice after completing his general practice residency with the U.S. Public Health Service in Baltimore, Maryland. After graduating from Oregon State University, Dr. Freed earned his DMD degree with high honors from the University of Oregon Dental School (now OHSU).
Dr. Freed has served as Washington County Dental Society president and as an Oregon Dental Association trustee. He has also been a volunteer for many other industry wide organizations and a member of the Academy of General Dentistry with Fellowship status. To earn Fellowship status, Dr. Freed completed over 500 hours of continuing education, passed a rigorous exam, and he continues to prioritize the use of the latest techniques and best practices in dentistry. He has participated in the Donated Dental Services Program providing dental care for patients with disabilities, elderly and mentally compromised patients. Dr. Freed has always placed a high priority on continuing education, regularly attending a wide variety of study clubs and courses.
As a longtime resident of the Cedar Mill area, Dr. Freed married his high school sweetheart, Marsha, and has three daughters who all live in Portland with their families. He thoroughly enjoys the time he spends with his six grandchildren!